Details
Stearoyl Benzoyl Methane (SBM) is a new kind of PVC heat stabilizer, it has better transparency, nontoxic and odorless. In case of combined use with Calcium/Zinc, Barium/Zin and other heat stabilizer, it can greatly improve the initial color, transparency, long term stability of PVC, and also can improve the precipitation and "zinc burning" problem during the process. It has very good synergy with zinc soaps, and can protect the PVC color. Recommend dosage is 3-5% to the Calcium/Zinc stabilizers. The material is non-toxic, and permitted to be used in food & pharmaceutical contact PVC material in United States, France, Japan and other countries.
Specifications: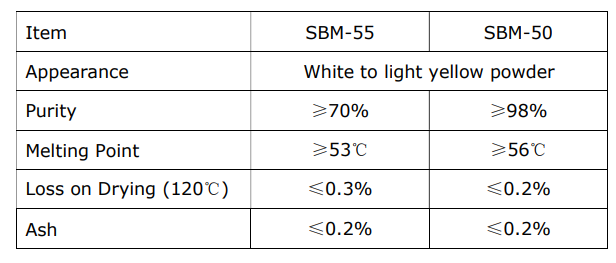 Safety:
Non-Dangerous Chemicals. Causes skin irritation, serious eye irritation, may cause respiratory irritation. Avoid breathing dust, wear protective gloves/protective clothing/eye protection/face protection.
Package & Storage:
20Kg/25Kg Drums. Store in cool & dry place.
Shelf life:
12 months